Ritual Motion Gaming Gloves [Skins]: An Honest Evaluation
Buy Gaming Gloves Now_
First and foremost, I was not paid by Ritual Motion to do this review. All of the thoughts in this post are of my own volition._
A few months back I began having severe wrist pain, to the point where I didn't even want to spend time hacking regularly. If anyone knows what I'm talking about, it's painful - an electric shock and seconds later, a nearly intolerable typing experience. Friends of mine had recommended that I utilize compression gloves, and I anxiously complied. My first pair of gloves were a greyish-clothlike pair of compression gloves purchased at Walgreens. The truth of the matter: the gloves were an absolute nightmare. I had one of the smallest sizes and they hardly compressed my wrists, and the fingerless portion of the gloves rode so far up my hand that I could barely type comfortably. Shortly after, I purchased a pair of black gloves from Walgreens, made out of a different material. The gloves worked well, reducing the material that extended over my fingers and compressing my wrists nicely…
…then come the issues. The gloves start to fall apart and rip. Even before the deterioration of the gloves, I found myself pulling the material down because it would not stay and place and compress my wrists properly after a few short weeks.
Trying Ritual Motion
At this point, I had been wearing compression gloves for a few months and I knew that I liked them, but the wear and tear of the gloves weren't ideal. In addition, they were fairly unfashionable, and my hands would become brutally sweaty. I remembered that I had been told about trying Ritual Motion Gaming Gloves, however I was skeptical because of the name "gaming". I assumed the gloves were built for gamers, but in reality, they are built for anyone who uses compression gloves.
Okay - but:
Why do a review?
I didn't think I was going to do a review to be honest. I gambled a bit, teasing Ritual Motion and stating that I was only going to write a blog post if I was absolutely certain that it was a product I liked [and I was fairly certain they were going to fall apart, fit loose, etc].
What I actually received was a set of gloves that are fashionable, secure, adjustable, and so damn comfortable/lightweight that I actually felt a little bit bad that I had teased Ritual Motion. Surely, this was the classic example of, "Never judge a book by it's cover". Plus I mean, look at these gloves…pretty badass, not gonna lie. I was worried about the theory of "all cover no book".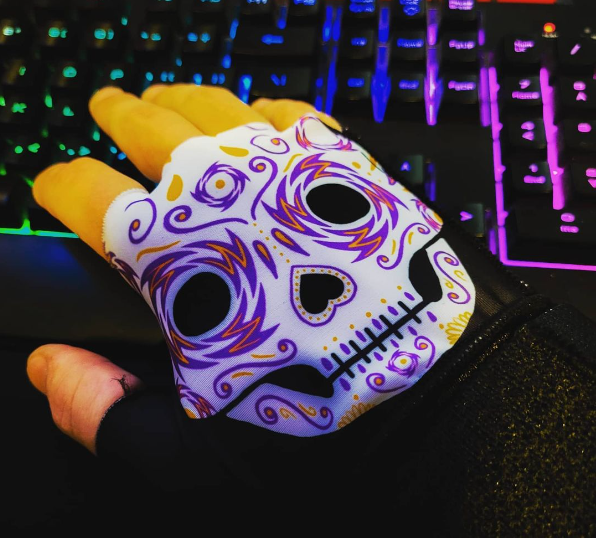 Overall
Ritual Motion has to have some of the friendliest employees that I've ever dealt with. They were confident in their product and willing to take a friendly wager, in which they won. In the long run, I can see myself being a long time customer and buying multiple variants of their gloves because to be quite honest, there's nothing on the market that can compete with these. If you're a hacker, gamer, or tech generalist - I recommend giving them a look. Make sure you get the "Warrior 2" skins because they have the adjustable straps and trust me, it's a wrist gamechanger.
Wait a second…
I know what you're thinking. I link up with some company, I'm an affiliate, and now I'm trying to push products on you. It's not like that. I honestly want everyone to take care of their physical health, and if you're a hacker, you type A LOT. Please just do your best to take the right steps now rather than later. Trust me, you won't regret it.
Also, FYI - I could care less if you buy the gloves or not. The way I see it: Good products sell themselves. I dropped my link because if you feel like you're going to buy the gloves, you might as well use the affiliate link.
Nonetheless, I'm extremely happy with my gloves and I'm glad to have finally found a company that offers a solution that's comfortable and stylish. People always make hacker jokes because they are fingerless gloves, and I'm here for the jokes :)
TL;DR: You win Ritual Motion. GG WP.